Vibrations mostly consist of a mix of different frequencies. VM-FFT decomposes this mix into its different frequencies and thus allows the detection of causes for the different vibration frequencies. It is also used to detect the natural frequencies of bodies or damages on rolling bearings.
VM-FFT offers more than one million lines and a resolution better than 0.01 Hz.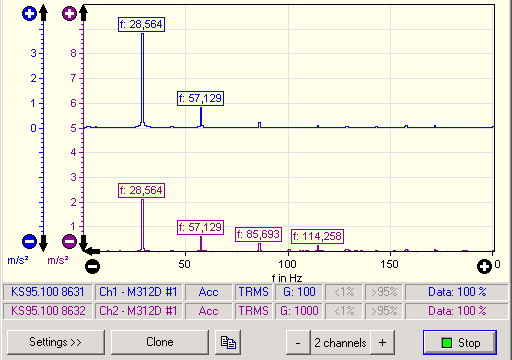 VM-FFT simplifies the setup process by presets for typical applications. Even users with less experience will quickly be able to perform an FFT with optimum resolution.
Experienced users may change all relevant settings like, for example, window functions and averaging techniques.
With its trigger function or in combination with VM-SCOPE single or non-continuous events can be analyzed. An example is resonance finding by an impulse hammer.
In order to detect speed synchronous excitation in machines an
order analysis
is often performed. VM-FFT offers an order analysis as well. Benefit from all advantages of an order analysis immediately by simply switching the frequency axis to order.
VM-FFT+ features an envelope function for bearing analysis. An extensive database with damage frequencies of more than 25,000 bearings is integrated.
For stochastic signals power spectral density analysis (PSD) may be useful.
Transmission functions between frequency response functions can be determined by the mode of the same name.
It is possible to display FFT spectra of acoustic values. Different weighting filters can be used.