Signal settings for VC and Nano lines
This panel shows the relevant settings for the measuring channel. They are identical for VC and Nano lines.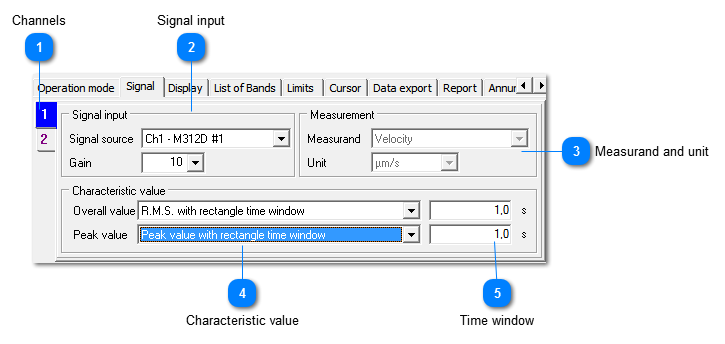 Signal conditioning can be set for each channel individually. VM-OCT can display different characteristics for one sensor.

 

The number of tabs depends on the entered channel number. The channel color can be changed by right mouse click.
Selects the used M302/M312 device and the inputs with connected accelerometers.

The gain setting determines the measuring range.

 
For the measurement of VC and Nano lines vibration velocity in

µm/s

is the relevant measurand.

It is preset and cannot be changed.

The
diagram
can display RMS and peak values simultaneously. Peak values are indicated in brighter color on top of the RMS bars.
The following calculation modes are available:
RMS 

(calculated for the entered

time window

), relevant for measurements according to VDI 2038-2.

... with rectangular time window

Displays the mean value during the past sliding time window

... with exponential time window

Higher mean values are indicated immediately and decay with the entered time

off

No peak display

... with rectangular time window

Displays the peak value during the past sliding time window

... with exponential time window

Higher peak values are indicated immediately and decay with the entered time

Peak hold

Maximum peak value since start of VM-OCT
| | |
| --- | --- |
| | Time window for RMS and peak calculation, 0.1 to 100 s |