Configuration options for the measurement mode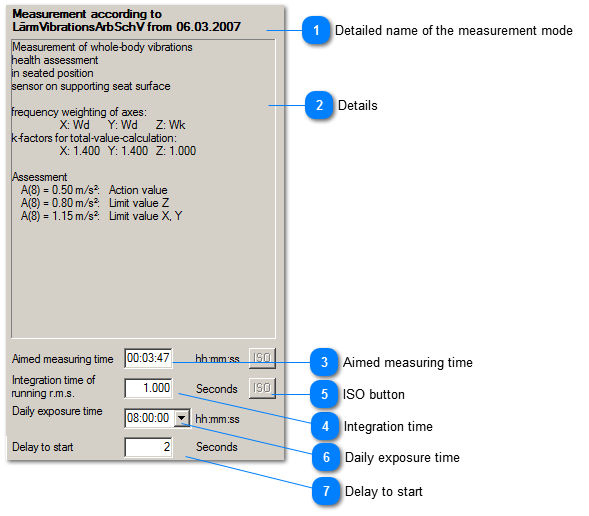 | | |
| --- | --- |
| | For greater certainty concerning the selected measurement mode, the following details are displayed: |

The measurement is usually carried out for a limited time.
This duration can be entered here. However, it must not be below a certain minimum duration. By means of the
ISO button
, the minimum duration conforming to the standard is entered
.

The validity ot the measurement is monitored by means of a running RMS value.
You can enter the time frame (integration time) for forming this RMS value. By means of the
ISO button
,
the time is set conforming to the standard.
| | |
| --- | --- |
| | By means of the ISO button you can set the following parameters conforming to the standard: |

To be able to show a colored evaluation already during the measurement, VM_BODY requires a daily exposure time to which the measured values can be referred. The measurements are usually not carried out for the actual exposure time, but for a representative duration and then the measured values are extrapolated to the daily exposure time.

If you do not want the measurement to start right after pushing the start button, you can enter a delay here.