VM-SCOPE can control the frequency analyzer
VM-FFT
for an event triggered analysis.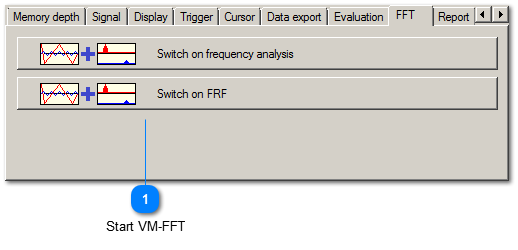 The connection between VM-SCOPE and VM-FFT (if licensed) is established by clicking the button
Switch on frequency analysis
or the button
Switch on FRF
. This copies the data of the VM-SCOPE after a trigger event and calculates and displays the frequency spectrum or the
frequency response function
.
A VM-FFT window will be placed on the right side of VM-SCOPE. VM-FFT is controlled by VM-SCOPE and will analyze the shown time range.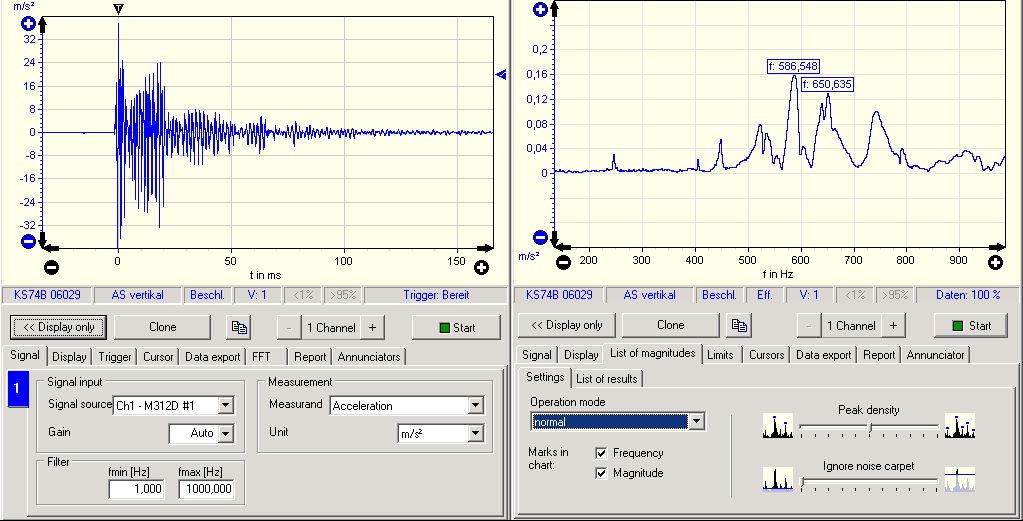 There are the following dependencies:
VM-SCOPE starts VM-FFT.

VM-FFT stops if VM-SCOPE is stopped.

VM-FFT is moved together with the VM-SCOPE window.

The analysis in VM-FFT is

triggered

by VM-SCOPE.

If VM-SCOPE is waiting for a

trigger

no analysis is performed.

If VM-SCOPE is closed VM-FFT also closes.

Changing the

signal source

in VM-SCOPE changes also the signal source in VM-FFT provided that VM-FFT is licensed for this channel.

Changing the measurand in VM-SCOPE changes the measurand in VM-FFT. The units can be set independently.

Changing the

band filter

in VM-SCOPE sets the maximum frequency in VM-FFT.

The settings for

pre and post trigger

in VM-SCOPE determine the time interval for analysis. Since an FFT only allows discrete time windows at a certain sample rate it may occur that VM-FFT will fill missing values with zeros.

Conflicts caused by certain VM-FFT settings are marked yellow.