While measuring, VM-SHIP displays the vibration total value and a colored assessment.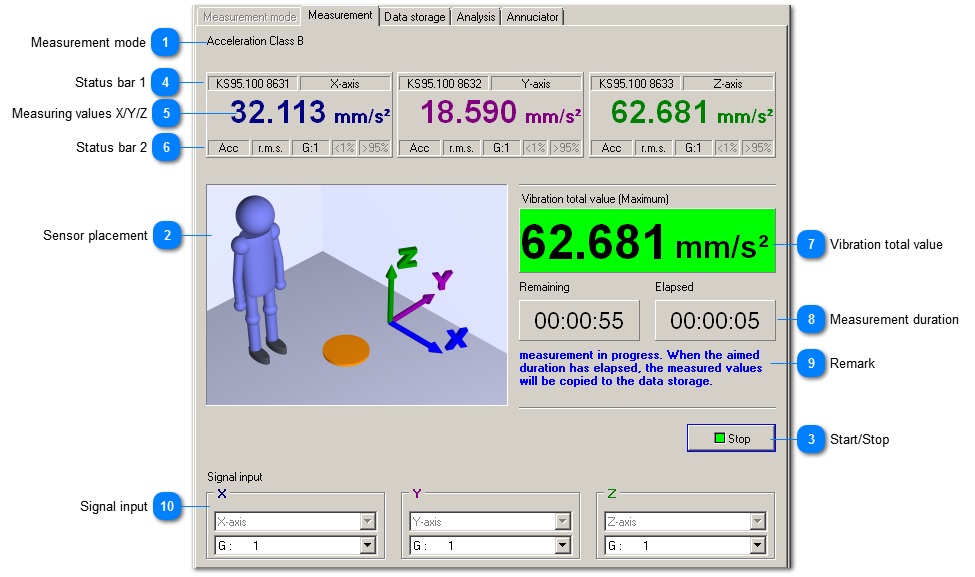 The selected measurement mode is shown once again.
The image shows the body's coordinate system. The sensor has to be mounted in a way that its axes are aligned accordingly resp. you have to select the axis accordingly in the

sensor automatic

.

The vibration value (weighted interval RMS value) for the axis is displayed here.

The maximum of the values from the single axes is displayed as vibration total value.

VM-SHIP displays elapsed and remaining measurement duration. The elapsed measurement duration counts with minus sign from
start delay
to 00:00:00. Afterwards, the elapsed measurement duration counts up to the
aimed measuring time
. The measurement is stopped when it reaches the aimed measuring time.

This remark informs about the current state.
At the signal input, you
select
the measuring channel and
configure
the measuring range
. If you activated the
sensor automatic
VM-SHIP
selects the measuring channel automatically.