Performing the correction
Correction is done interactively.
You may modify these suggestions if desired.

Enter your own corrections and you will see the effects immediately in the right section of the panel.

Confirm if the correction was done actually at the rotor.
If all steps are finished in both planes you can proceed to the next step, a vibration measurement run.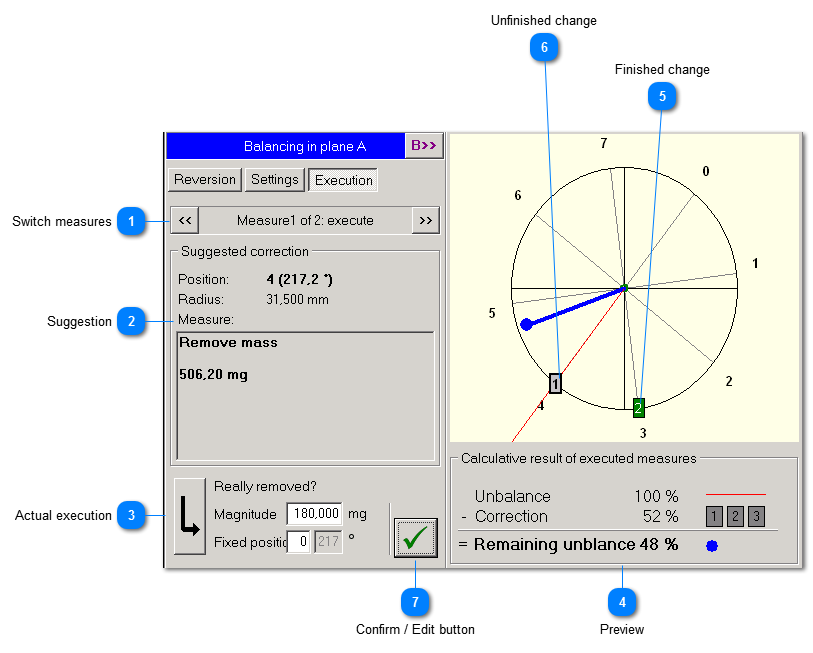 | | |
| --- | --- |
| | Especially for balancing at fixed positions several suggestions can be issued. |
Use the buttons

and

to switch between them. The location of the currently selected correction is indicated in the
preview diagram
by a bold framed number, for example

for correction 2. 
Reasons for user inputs can be

No correction can be made at the calculated angle

The calculated correction mass is not at hand

etc.
The effects of the entered changes can be observed in the
preview
section.
| | |
| --- | --- |
| | This button resets the data entered by the user back to the system suggestions. |
This section shows all correction measures at their location.

Completed

steps are indicated green,

unfinished

steps are grey.

 

The preview also shows the estimated unbalance pointer after all correction steps will be finished. A zero length pointer would indicate complete correction of the unbalance. Under the diagram you see a calculation of the remaining unbalance. 

 

The length of the pointer will not become zero in case of practical balancing restrictions, like

mass limitations

) or differences between calculated suggestions and practical measures. A tolerance circle indicates whether the deviation is acceptable or another way of correction needs to be found.
The preview function can be practical to test different correction methods. Please note that the show unbalance is an estimation only. It cannot replace the subsequent verification run.
| | |
| --- | --- |
| | A finished correction is shown as a green box. |
| | |
| --- | --- |
| | An unfinished correction is shown as a grey box. |
| | |
| --- | --- |
| | Click this button to confirm your entries. |
| | |
| --- | --- |
| | The confirm button turns into an edit button. As long as the next balancing step is not completed you may return to the edit mode. |